Slider Bed Transfer Conveyors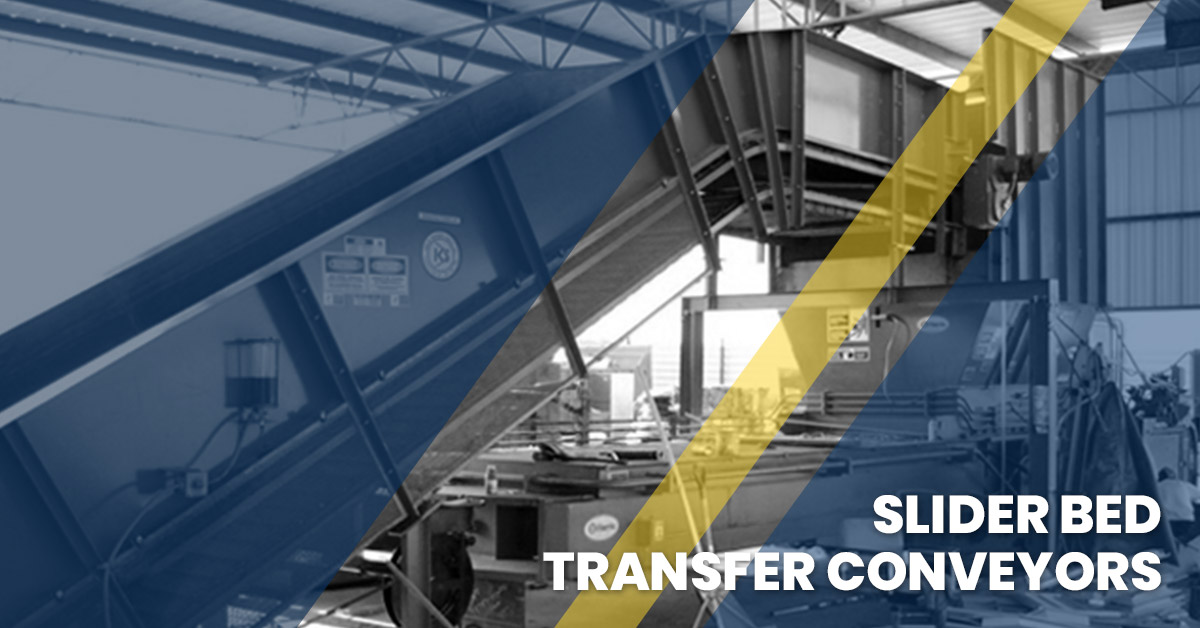 At Karl Schmidt Mfg Inc., we make some of the strongest and most efficient slider bed transfer conveyors available on the market. Whether you need to transfer, sort, separate, or load MSW, fiber, C&D, commingles, and recyclable mixtures, our slider bed transfer conveyors have what it takes to help you get the job done, quickly and efficiently.
Our Slider Belt Transfer Conveyor Specs:
All of our standard slider bed conveyors ship with two emergency stop buttons, as well as protective guards that can be installed up to 8 feet above the ground.

All slider bed conveyors are equipped with a shaft-mounted inverter rated motor and gear reducer.

Our slider belt conveyors are manufactured to operate at a nominal speed of 40 feet per minute, unless otherwise noted at the time of shipping.

All conveyor systems come with adjustable supports.

The lead time of each slider bed conveyor system will depend on the current workload being enforced.

Our conveyor system drive motors are TEFC rated 230/460 volts, 3 phase, and 60 Hz. Our systems feature reducers that are helical bevel shafts mounted with torque stabilizer arms.

Our slider bed conveyor systems are finished with one coat of KS Mfg blue industrial enamel to a minimum of 2 ½ mils DFT. Other colors are available upon request at the time of your order.

All metal surfaces are prepped with an SSPC-SP3 minimum, and all welding procedures follow the AWS section D1.1 guidelines.
General Information:
Sizes: At Karl Schmidt Mfg Inc., we custom manufacture each slider belt transfer conveyor to meet the needs specific to each individual operation. Conveyor system size can be discussed when the order is submitted.
Frame: All slider bed transfer conveyors are built using formed sheet steel between the thicknesses of 10 gauge and ¼". The frame of the conveyor system is cross-braced and welded to ensure stability. Additionally, our conveyor systems are mounted with lifting lugs — ensuring that it can be installed with the greatest ease possible.
Belt: All of our slider bed conveyor system belts are standard high-abrasion resistant belting, unless otherwise specified at the time of the order. Additionally, 2-ply flat belts and linings are manufactured with high-tension synthetic fabrics to reduce the likelihood of mildew and rot.
Contact Us To Discuss Your New Slider Bed Transfer Conveyor
Karl Schmidt Mfg Inc. is your trusted source of custom material handling systems — and we would like to help you optimize yours. Contact us today to discuss what a custom slider bed transfer conveyor could do for you and your material handling and sorting operation. We look forward to working with you.